STEPS
Paving the way for the leaders of tomorrow…!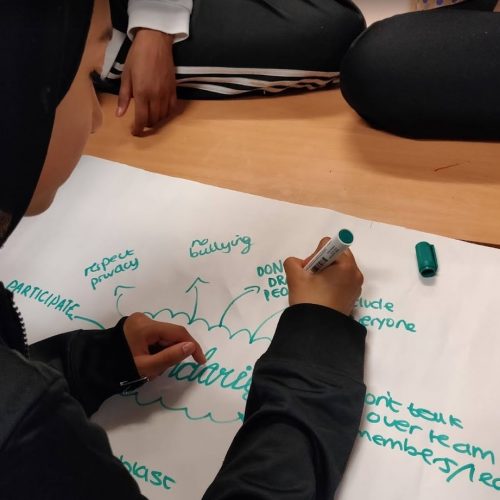 About the Programme

The programme comprises of a series of workshops set to inspire young change-makers through a faith-based approach to community activism and spirituality.
The Curriculum

Experienced professionals and activists have worked together to develop the Faith Inspire Leadership model that is built on quintessential Islamic vision, values, qualities and action. This programme seeks to empower individuals to navigate this model and units within it, culminating in a more well-rounded individual with a better understanding of various leadership models driven by the Quran and teachings of the Prophet Mohammed (PBUH).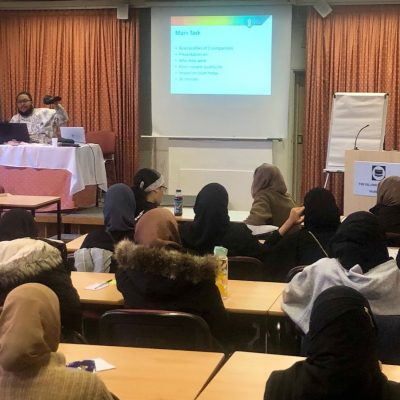 The Expectation

The young person joining the programme will begin to build confidence in their own ability and develop new skills, ranging from public speaking to finding new and innovative solutions to complex problems. We understand that it can be a tad nerve-racking at first, hence the need to attend regular sessions that will help foster all-important teamworking skills, culminating in a leadership residential trip away filled with fun activities and challenges. This programme is just the start, as it will assist individuals to build and work on local projects, from organising and delivering high-profile events to providing food to the poor and needy, whilst at the same time building their resilience to life's challenges.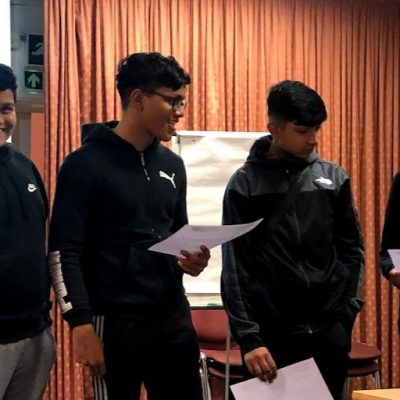 The Service

Delivered by a pool of facilitators and guest speakers with decades of experience in youth and community work, including contributions from specialists in their respective fields. Guest speakers include Imams to CEOs, all adding their own unique perspective to the workshops. Excursions will be organised once it's COVID-secure to get a better feel and understanding of concepts that have been covered in class, and further exploring ideas and themes in real-life settings.

Individuals will be allocated a Group Leader, who will manage a small group of 3-5 delegates, overseeing their performance and well-being on the programme and focus on their personal development goals, assisting them at all times on their life journey.

Recognising the achievement of delegates with awards will be presented at the end of the programme with celebrations involving friends, family and the wider community on successfully completing this first part of the journey and starting the next chapter with Faith Inspire.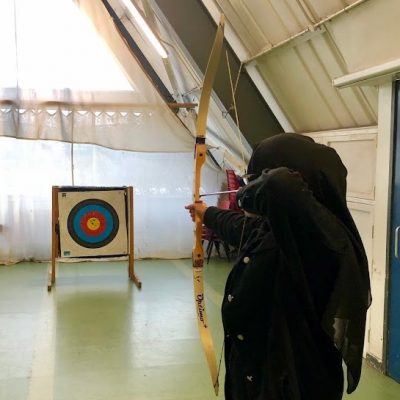 The Details

A 24 week programme comprising of 1.5 hour sessions each week

Online and in person (alternating weekly)

Venue: Zoom and a Centre in Whitechapel, Tower Hamlets

£50 for the programme, subsidies can be provided

Open to all young people aged between 12 and 16 years of age (boys and girls)

Starts: Saturday 6 November 2021

Time: 11:00am – 12:30pm, every Saturday
To find out more or to get a call back from one of our team please email FaithInspireYouth@gmail.com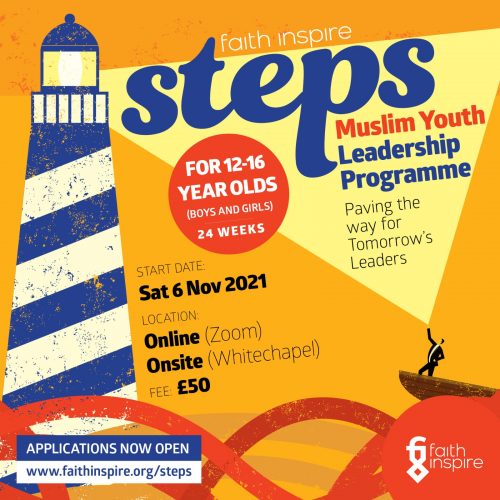 Frequently Asked Questions
I have two children, is there a discount for that?

The programme has been heavily subsidised, and along with regular sessions, it also includes a weekend residential, so unfortunately we are unable to offer any further discount for additional children.

We can, however, offer further subsidies to those unable to afford the full price. We welcome you to email us at FaithInspireYouth@gmail.com and we will review each case on its merit.

Is there segregation in the classroom?

There is no physical barrier segregating the boys and girls in the classrooms, although they will be seated separately. We expect students to learn and develop the required Islamic etiquette when interacting and engaging with the opposite gender, this will assist them in their current situation at school and/or later in higher education or career. The course aims to instil the values of modesty, good Islamic manners in this regard. Our facilitators and people of knowledge will be leading each of the sessions so they will ensure boys and girls abide by Islamic rules.

During the residential (weekend away) each gender will have their own dormitory and any physical activity will only be with their respective gender, to enable greater participation of physical activity. More details will be provided closer to the time of the residential.

Are the sessions held during school half-term breaks?

To ensure young people have a natural break, we have decided not to deliver sessions during half-term breaks, allowing students to spend quality time at home with their families.

We will be following the Tower Hamlets academic calendar https://www.towerhamlets.gov.uk/lgnl/education_and_learning/schools/term_and_holiday_dates.aspx

There are excursions and trips. When will they take place and will you cover transport and lunch ?

All activity sessions, excursions and trips will be covered by Faith Inspire, and we aim to notify parents via email with at least two weeks advance notice.

We will ensure risk assessments are carried out, and trained facilitators manage the travel and food.

My children have allergies and/or medical conditions, is this taken into consideration?

Please let us know via email of any allergies or medical conditions. We will try our best to accommodate the students' needs. If however, we are unable to, we shall be in touch.

My child has special educational needs and requires support?

We are unfortunately not in a position to support children with SEN, as this requires a specialist to be with us during all of the sessions. We are unable to cover the cost of this on this occasion, but it is something we shall endeavour to work on in the future.

Do we need to pick up our child from the centre or can they leave when the session ends?

It is the responsibility of the parents to decide how best the child gets home, we would not be able to stay longer than 15 minutes at the premises after the session ends if we are waiting for a parent, otherwise we will have no choice but to  ask the student to leave the premises.

Does my child need to have their camera on during the online sessions delivered using Zoom?

For effective learning and maximum benefit, we ask that students always have their camera on during the sessions. If there are technical issues during a particular week, that's fine, however if it persists, we will inform the parents to look into this matter. This also helps us from a safeguarding perspective as it will allow us to identify exactly who has joined.

What if my child misbehaves?

We will give a warning to students who misbehave, however, with any incident deemed to be serious, we shall endeavour to arrange a meeting with the student and parents to discuss the best way forward.

My child does not wish to participate any longer on the programme, how should this be managed?

Please inform us at your earliest convenience, and we would be happy to discuss what we can do to better accommodate the student's needs.

Can  parents accompany the child for the weekend residential trip?

Due to safeguarding issues and well-being and development of the child, unfortunately parents are not allowed at the residential or at the sessions. We welcome suggestions or any enquiries on the details of the events we hold.