SIRAAT
Inspire Youth Circle

Empowering young Muslims to live life with knowledge and purpose.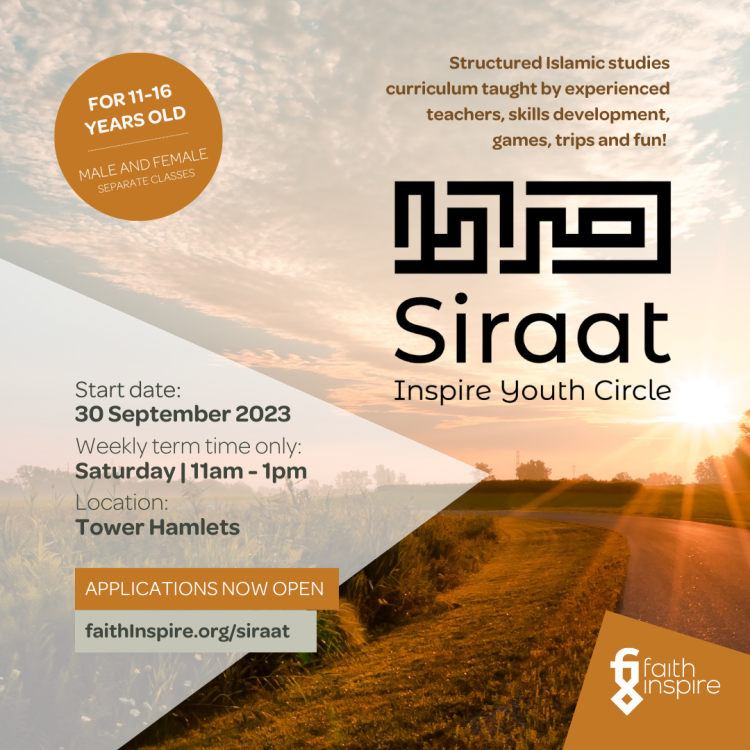 We are no longer taking registration for this programme, please register your details at the link above to stay informed of future faith Inspire youth programmes.
About the circle

The interactive and engaging sessions includes reminders and activities to nurture young people to be seekers of knowledge and become solutions to today's challenges.
The Aim

Help participants to be grounded in Islamic knowledge and to live Islam with purpose

To generate interest and awareness of Islamic scholarship and to have a balanced understanding

To be part of a network of learners in Deen in pursuit of contributing to our communities

Surely Allah is my Lord and your Lord, therefore serve Him; this is the right path. (3:51)
The Curriculum

With a dedicated theme and clear learning outcomes, young people will gain guidance and support for their development, driven by the Quran and teachings of the Prophet Muhammad (PBUH).

The theme will be introduced at the beginning of each term, with a clear programme provided which will include: outdoor sessions, excursions and interactive workshops.
The Expectation

Young people joining the sessions can expect a safe and friendly space, where learning the Deen is at the forefront of what we do

The sessions will be delivered separately for each gender allowing for personal space and their own self development.

Trips and excursions are planned with the intent of stimulating young people's interests in Islam and overall development.

The £50 per term what will it cover and why?

The cost of the programme is to cover expenses like venue hire to activities for the young people.

The programme costs a little more than your contribution, which is only possible due to subsidiaries by Faith Inspire members' contributions and our  Launch Good Ramadan Campaign.

For those that are struggling to make the full or term payment, we ask you to write to us via email for a committee consideration for a waiver/discount. This will be discussed on a case by case basis. Due to limited funds the committee's decision will be final.
The Locations

The selected venues can be easily accessed by public transport and has a space to drop off and collect children. It will also be central to the area and easy to locate. The classroom itself will be large enough for group work and prayers.

Venue will be in Tower Hamlets – to be confirmed
The Details

Sessions are Saturdays starting at 11am till 1pm

Term time programme – 3 Terms with half-term breaks they are:

Autumn – 16 September – 16 December 2023

Winter – 06 January – 16 March 2024

Spring – 20 April – 06 July 2024

Recruitment will take place 3 weeks before a term begins.

The weekly session will have breaks for half-terms and Ramadan.

Open to all young people in Secondary schools, between Year 7 to Year 11.

Separate classrooms for boys and girls, but will come together for occasional guest speakers, reminders and outdoor excursions, whilst observing Islamic etiquette.
Frequently Asked Questions

I have two children, is there any discount?

The programme has already been heavily subsidised, and along with regular sessions. It also includes an excursion, so unfortunately we are unable to offer any further discounts for additional children.

We can, however, offer further subsidies to those unable to afford the full price. We welcome you to email us at FaithInspireYouth@gmail.com and we will review each case on its merit.

Is there segregation in the classroom?

There are two different classrooms so each gender will have their own room.

For occasional reminders and group activities, we will bring the children together. For that we expect students to learn and develop the required Islamic etiquette when interacting and engaging with the opposite gender, as this will assist them in their current situation at school and/or later in higher education or career.

The course aims to instil the values of modesty, good Islamic manners in this regard.

Our facilitators and people of knowledge will be leading each of the sessions so they will ensure boys and girls abide by Islamic rules.

Are the sessions held during school half-term breaks?

To ensure young people have a natural break, we have decided not to deliver sessions during half-term breaks, allowing students to spend quality time at home with their families.

We will be following the respective local authority academic calendar. Timetables will be provided for the year, at the start of the session to parents.

There are excursions and trips. When will they take place and will you cover transport and lunch ?

Activities will be in London, where we use public transport (underground, train & bus). We ask that to be covered by the parents.

Activity sessions, excursions and trips will be covered by Faith Inspire and we aim to notify parents at the beginning of terms and any changes of circumstances as it occurs.

We will ensure risk assessments are carried out and trained facilitators manage the excursions and activities.

My children have allergies and/or medical conditions, is this taken into consideration?

We will ask parents to complete a registration form to details any allergies or medical conditions, however you are welcome to speak to the leaders for clarity.

We will try our best to accommodate the students' needs. If however, we are unable to, we shall be in touch.

My child has special educational needs and requires support?

We are unfortunately not in a position to support children with SEN, as this requires a specialist to be with us during all of the sessions. We are unable to cover the cost of this on this occasion, but it is something we shall endeavor to work on in the future Insha'Allah.

Do we need to pick up our child from the centre or can they leave when the session ends?

It is the responsibility of the parents to decide how best the child gets home. We would not be able to stay longer than 15 minutes at the premises after the session ends.

Is there a parents whatsapp group?

Parents will be notified of any changes via email, however we will create a parents group only to communicate Faith inspire course matters strictly. This is optional for parents to join, and details will be shared upon registration. The Whatsapp group is for parents only and no student will be  allowed to join.

What if my child misbehaves?

We will give a warning to students who misbehave, however, with any incident deemed to be serious, we shall endeavour to arrange a meeting with the student and parents to discuss the best way forward.

My child does not wish to participate any longer on the programme, how should this be managed?

Please inform us at your earliest convenience, and we would be happy to discuss what we can do to better accommodate the student's needs.

We are unable to provide refunds for the long programme.

Can parents accompany the child for the weekend residential trip?

Due to safeguarding issues, well-being and development of the child, unfortunately parents are not allowed at the residential or the sessions.

We welcome suggestions or any enquiries on the details of the events we hold. For further information or any concerns, please email us at faithinspireyouth@gmail.com or call/text 0748 321 5770 and we'll get back to you within 2-3 days.